You can select your payment method in checkout by choosing between bank account (ACH), trade credit (upon approval), or credit card payment.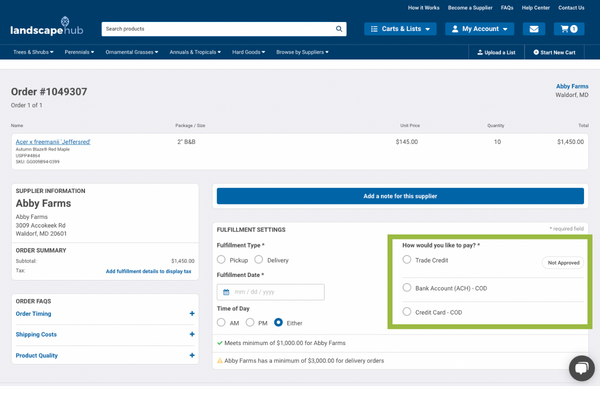 The payment method you select at checkout must be approved and on file prior to our growers and suppliers receiving any details of your order.
If your method is approved, you should see a green check mark next to it on the checkout page:
---
Accepted Payment Methods
Credit Card: Please note that a 3% service charge is applied to all credit card transactions. To avoid this fee, select an alternate method on the Payment Methods page or at check out.
---
Bank Account (ACH): With ACH direct debit payments, you can link directly with your bank account for a seamless payment process. We recommend using this option as no service fee is added, and it's much faster and more secure than paper checks. Add you bank account information by selecting this link.
---
Trade Credit: LandscapeHub is happy to offer credit to qualified buyers. To apply, please fill out the credit application and send to payables@landscapehub.com. We will review the application and credit references, which may take up to 10 days. Once approved, you will receive a letter/email with your credit limit and payment terms.
All Payment methods can be managed from the Payments section of your Account Settings.