Suppliers can propose order changes directly to the buyer on an order. As a buyer, here's what you need to know.
Helpful Topics
---
What is an Order Change Proposal?
Order Change Proposals allow the supplier on your order to send feedback directly to you for approval. Suppliers can propose date changes, size swaps, quantity updates, substitutions, etc. As the buyer, you will be notified with a link to review the proposal. You can Accept, Ask a Question, or Decline.
---

How do I know when a supplier sends an Order Change Proposal?
Order Change Proposals can be sent shortly after you submit an order. While they are reviewing the order, they can propose changes and select the option to send to the buyer. Not all orders with changes will result in an Order Change Proposal. It is currently up to the discretion of the employee responding to the order.
Email Notification
If they decide propose changes to the buyer, a email notification will be generated and immediately sent to the buyer.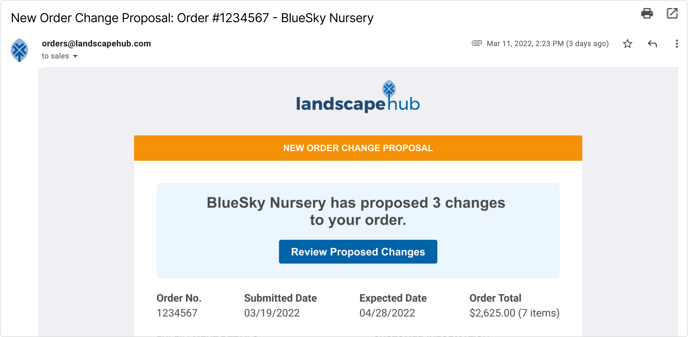 Text Notification
If you are also subscribed to text order alerts, you will receive a text notification as well with a link to view the proposed changes.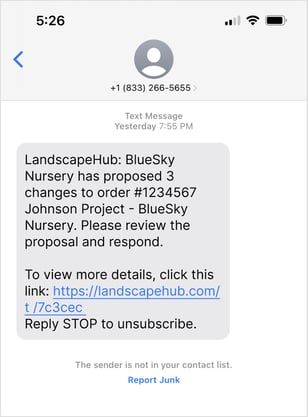 ---

How do I access an Order Change Proposal?
You can access proposal in several ways.
OPTION 1: Access the proposal from your email
To view a proposal, you can click through from the email notification you receive. You will need to be logged into LandscapeHub to view the proposal.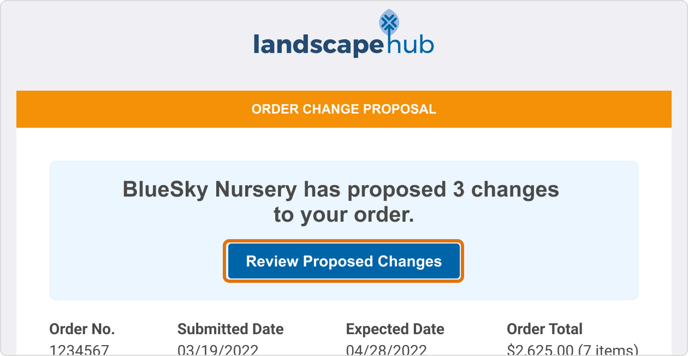 OPTION 2: Access from the Order Details Page
If you have an unresponded Order Change Proposal, you'll see a message on your logged-in homepage. You can click through to see all orders with a proposal that needs a response.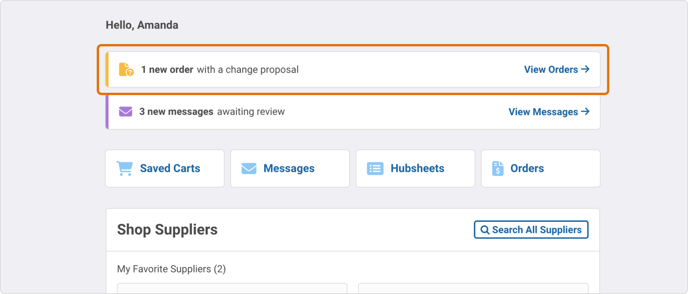 On the Order Page, orders with an open Order Change Proposal will have the status label: Needs Proposal Response. You can quickly view only those orders with the checkbox filters at the top of the screen.


On the Order Details page, you will see a large button at the top of the screen to Review Proposed Changes. This will take you to the proposal where you can view and respond to proposed changes.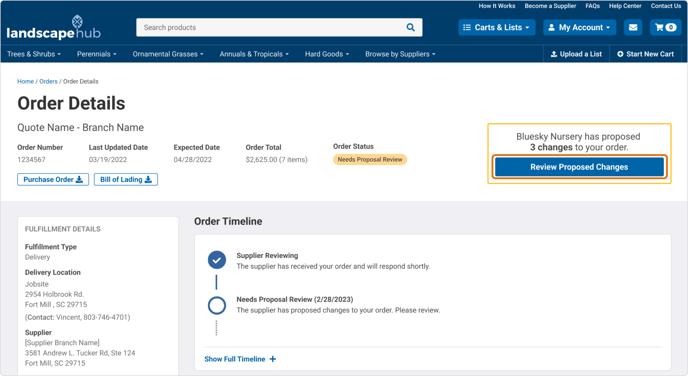 OPTION 3: Access from LandscapeHub Messages
When a proposal is submitted by the supplier, you'll receive a message in your LandscapeHub inbox as well as an email. The message will include a 'Review Proposed Changes' button which will take you to the proposal.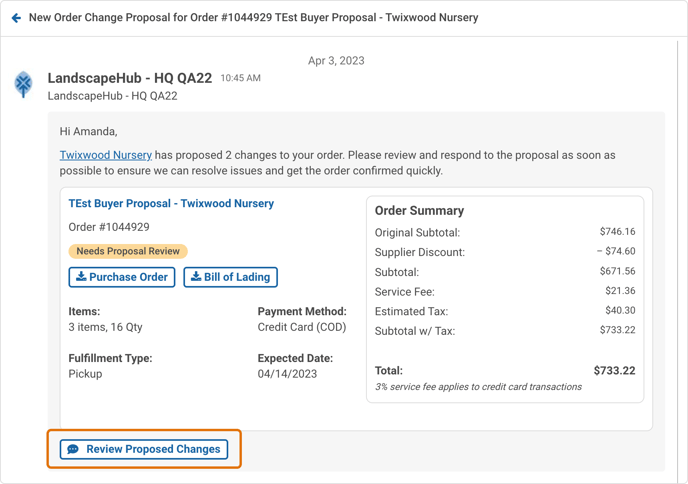 ---
How do I respond to a proposal?
There are three key sections to an Order Change Proposal. Here's a breakdown of each one.
SECTION A: Proposed Order Changes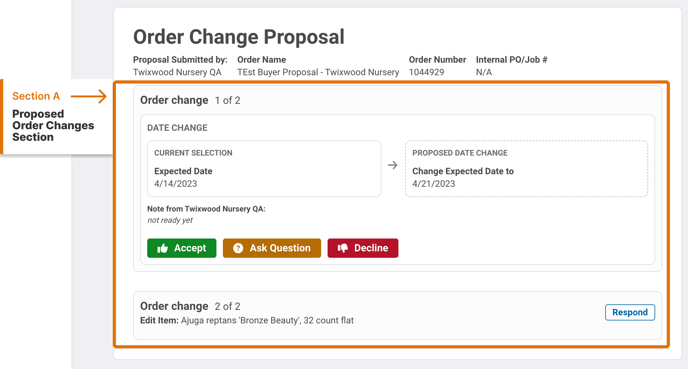 This is the first section you'll see at the top of your screen. All proposed order changes will be listed here. You will be required to respond to each one. You can skip between each one by clicking the 'Respond' button.

Accept Change
Selecting 'Accept' means you approve the change as is. If you submit a proposal with all accepted all changes, we can automatically update your order.

Ask Question
Selecting 'Ask Question' will allow you to input a comments about the change if you need additional information to decide.

For now, questions will be submitted to the LandscapeHub team to follow up on.

Decline
Selecting 'Decline' will allow indicate to LandscapeHub you need a different resolution. You will also be able to comment feedback so LandscapeHub can quickly find an alternate solution or remove the item from the order.
You must select one of the response to each order change before you can submit your proposal response. When you are finished responded, be sure you hit Submit Proposal Response in Section C.
SECTION B: Order Details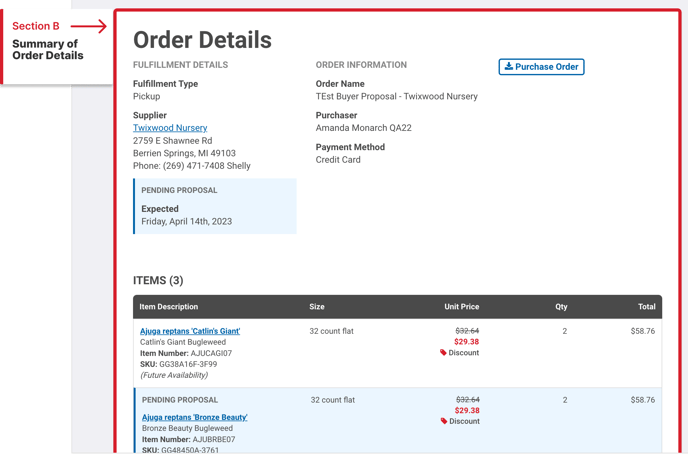 Below the order change, there is a full breakdown of the original order you submitted. Any items or date impacted by the order changes will be highlighted so you can quickly tell what may be impacted.
The Order Details WILL NOT update as you accept changes above. You will not see updated order details unless you submit a proposal where all changes have been accepted. That will required you hit the Submit button in Section C.
SECTION C: Response Summary & Submit Button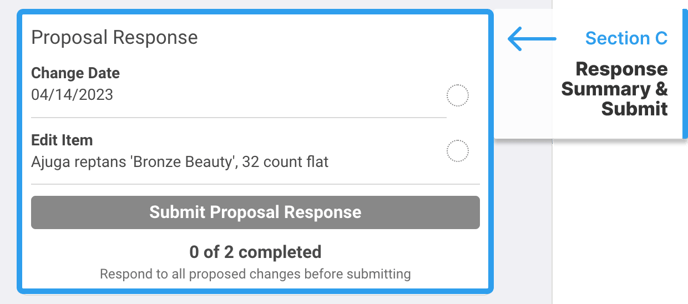 This section will display to the right on desktop or at the top of your screen on mobile. It will list each change and how many response have been completed. Once you have responded to all changes, you should see a checkmark next to all changes and the Submit button will become active. You must then hit the 'Submit Proposal Response' when you are finished.





You will see a Thank You screen outline next steps once your proposal has been successfully submitted.


---
What happens after I respond?
Once you submit your response, your order takes a couple routes depending on how you responded.
✅ If I accept all changes...
If you accept all changes on a PICKUP order, your order will be automatically confirmed and new order documents generated. The suppliers will also receive an communication so they can ensure the order is entered into their system.
If you accept all changes on a DELIVERY order, the order will be automatically updates and resent to the supplier to gather the final delivery costs. You will receive an order communication as soon as delivery information is added with final documentation.
❓ If I ask a question...
If you need additional information on a order change, you can click 'Ask Question' and add a comment. For now, we will be sending any comments to the assigned LandscapeHub rep to follow up and resolve. So as soon as your submit a order proposal that includes a question response, we will notify the rep and include all your provided information. They will then determine best course of action to address the unresolved issue as soon as possible.
❌ If I decline a change...
If a suggested change doesn't work for you, you can click 'Decline' and add a comment for LandscapeHub on how you'd like to proceed. Once you submit the proposal, your assigned LandscapeHub rep will work with you to find a sub, remove the item, or find it at another supplier.

PLEASE NOTE
If you accept one change but have other unresolved changes, the order won't immediately be updated to reflect the accepted change. Your feedback will be submitted back to your LandscapeHub rep to quickly address anything outstanding in order.

If you have additional questions about how Order Change Proposals work, reach out to support@landscapehub.com, and we can schedule a demo to walk you through the process.
If any issues are unresolved, LandscapeHub's team will work to resolve them asap.