Stripe account verification is sometimes needed when adding a new bank account to LandscapeHub.
When you add your bank account manually with the routing and account numbers, our payment partner, Stripe, needs to verify the account before LandscapeHub can make debits from your account. This is a necessary step to prevent fraudulent transactions.

To verify the account and your access to it, Stripe will send issue micro-deposits to the bank account with a code in the descriptor that you will then ned confirm directly with Stripe.
To verify your bank account:
1. You'll receive an email from Stripe.
After providing bank account details in Landscapehub, you should have received an email from Stripe that looks like this, with the subject line "Verify your bank account for Landscape Hub, Inc."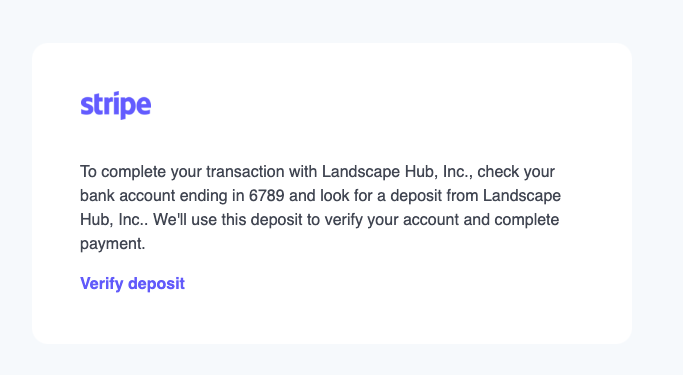 2. Locate the micro-deposits and verification code in your bank account.
Check your bank account and note the 6-digit code starting with SM in the description of the deposit. The micro-deposits may take 1-2 business days to appear.

3. Follow the link in the Stripe email (Step 1) and enter code.
Write down the 6-digit verification code you saw in your micro-deposit transaction. Once you have it, return to the Stripe email and click the link that says "Verify deposit." On the following screen, you'll be asked to enter the code.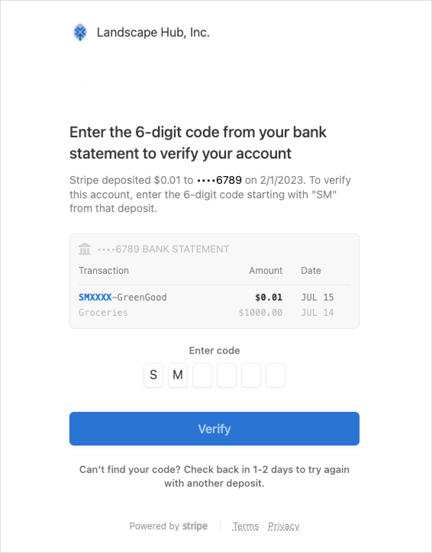 4. Once you see the checkmark, your account is verified and ready for use.
After you enter you code and click the "Verify" button, you should see a confirmed screen with a checkmark. This is the signal your bank account has been successfully verify. Now you can return to LandscapeHub to process any invoice payment with your newly verify bank account.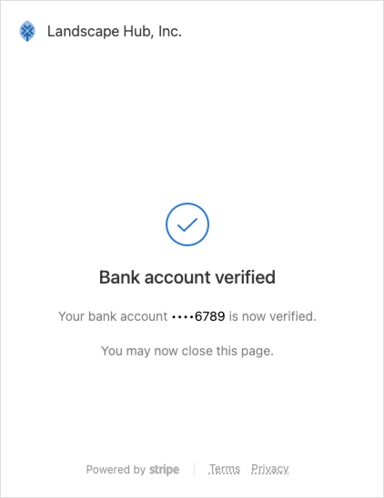 If you have any questions or need help, reach out directly to receivables@landscapehub.com.