You can request photos of almost all plants listed on LandscapeHub. To request photos go to a plant listing and selecting "request photo".
When you are searching on either the product page or supplier page you are able to request photos by selecting the "request photo" link on the product. You are able to request up to 5 photos per day, per supplier. You can also include a message about any specifications that you are looking for. Please allow 1-3 days for the supplier to respond to the request. Not all plants are able to have photo requests depending on their current availability or seasonality of the product.

The photos from the suppliers will be uploaded to your message inbox within LandscapeHub. To navigate to your message inbox, go to your Home page and then select Messages in the sidebar. From here you will be able to view all photo requests and communicate to the supplier about the inventory you inquired about.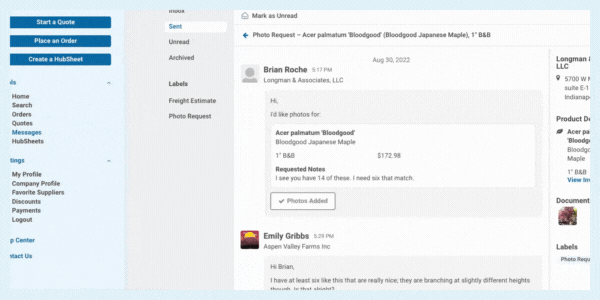 You can download all photos and save them to your decivce or computer. If you love what you see you can instantly add the plant to an active cart or start a new cart.