When will I get shipping costs?
You should expect to get shipping costs around 24-48 hours after order submission. If you haven't received an update yet or need costs sooner, you can also reach out to LandscapeHub at support@landscapehub.com or via the live chat.
What if I need a freight estimate before I submit the order?
You do have the option to request a freight estimate from your cart. Once you've added all the needed items, you can select 'Request a Freight Estimate' in the blue bar.
You'll be asked to provide some additional details so our team can give you an accurate quote. Once you submit the request, it will be sent to our logistics team to create an estimate.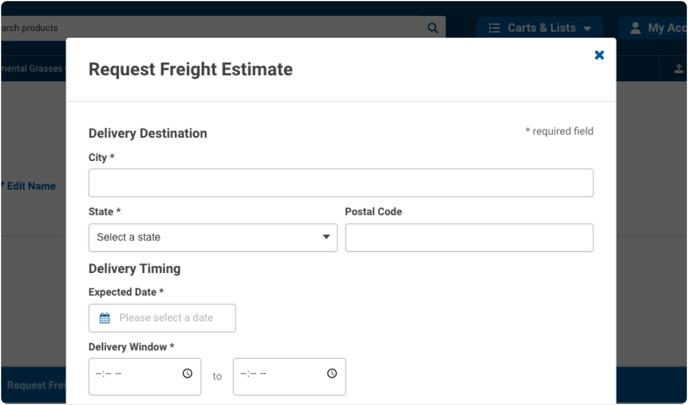 They typically turn it around within the same day, but during the busy season, it can sometimes take longer. Once your freight estimate is ready, you'll receive a message in your Messages inbox with all the details as well as a pdf you can download.

What if shipping costs are too high?
You will receive an email with the added shipping costs and total order amount. If the costs don't fit your budget, you should contact the LandscapeHub team immediately so we can review the order and help you find an alternative option.
Who handles shipping?
It depends! Once you submit an order that needs delivery, the supplier will have the opportunity to indicate if they can deliver and add their costs. If they are unable to deliver, LandscapeHub's logistics team will arrange shipping with one of our 3rd-party freight carriers who have experience handling plant material. LandscapeHub can also coordinate shipping across multiple vendors if needed.